At K. Alger Woodworking, we deliver the best custom cabinet services for both residential and commercial properties in Jamestown, Rhode Island. Our excellent woodworking team with 20+ years of combined working experiences will work with you throughout the process. From the cabinet style, to the materials, and all the way to the finishing of the project, you will be a part of it.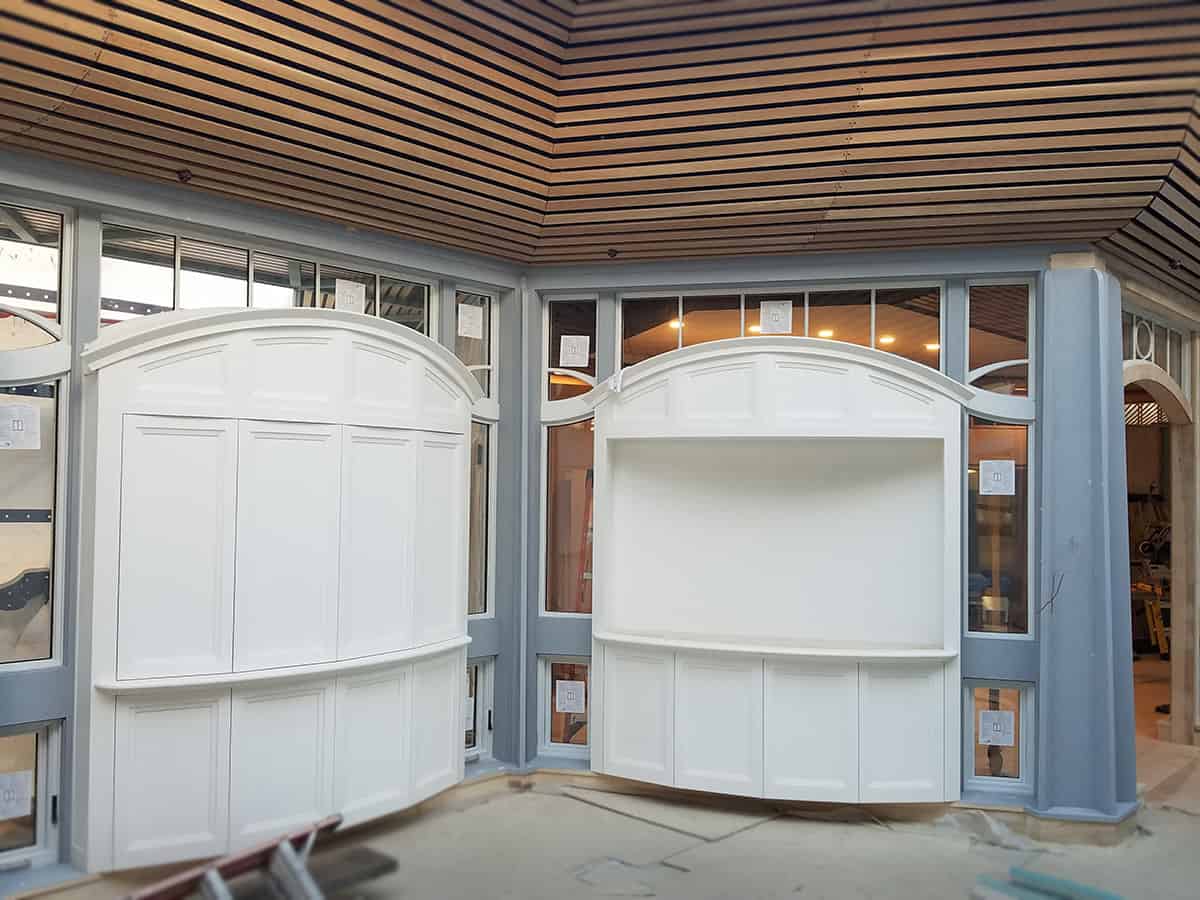 As a small business woodworking shop serving Jamestown, Rhode Island, our dedication to each client is outstanding. When you have a custom cabinet built with K. Alger Woodworking, you have a cabinet made by passionate craftsmen with the quality that will last. We work alongside some of the best cabinet shops from Maine to Connecticut, extending to some projects in New York City. Our vast knowledge of cabinet designs and experience in woodwork makes us the best choice in installing new cabinets or renovating old ones.
Custom Cabinetry Fabrication & Installation
Our professional cabinet fabricators can help you decide the type of cabinet and design you want. This will save you money on hiring home designers. We will assist you in designing and installing the perfect cabinet for your home or commercial space. Whether you want a traditional look or modern look, our extensive selection of cabinet designs cant fit or inspire even if it's not a part of our selection, we will make sure to work closely with you and construct what you want on time and to your specifications.
We are not just dedicated to producing high-quality cabinets, we are also mindful of the installation process. Our state of the art dust collecting tools are intended to keep your home or office space clean as we install your cabinets, as well as the finishing process. As part of our commitment to exceptional customer service.
Custom Cabinet Services
Since 2005, we have been consistently building a name in Jamestown, Rhode Island as a premier woodworking business. As our number of employees and clientele grows, our selections of designs and services have also been steadfastly growing, with customer satisfaction and product quality being our main goal. We can install built-in or freestanding cabinets in any room, provided the space satisfies the design. We can also alter the design to optimize the space for your cabinet to achieve the best results. Here are some of the general custom cabinet services we offer:
Custom Cabinet Wood Species – the standard species are oak, pine, walnut, maple and cherry.
Custom Cabinet Style – choose, create, or combine from different styles such as arts and crafts, shaker, Victorian, early American, traditional, modern, and many more. If you have a specific design in mind, we will produce it. If not, our team of experts will help you create one.
Custom Cabinet Door Styles – from flat panel, to open front, louvered, shaker, glass front, our selection is massive and will definitely satisfy the cabinet door you wish to have.
Custom Cabinet Finishes – you can opt to have a more classical finish with light to dark woods and rustic style, or you can play with colors and make it a statement of your creativity.
These choices do not limit your imagination. K. Alger Woodworking's team of artistic designers and skillful craftsmen will surprise you with how they can bring your vision to life. These choices will give you a general idea of the options you have but should you wish to visualize it, you can visit our Project Gallery here and get a better idea of our work or get an inspiration for a design. You can also book an appointment online to visit our shop in Johnston, Rhode Island or call us at (401) 830-0032.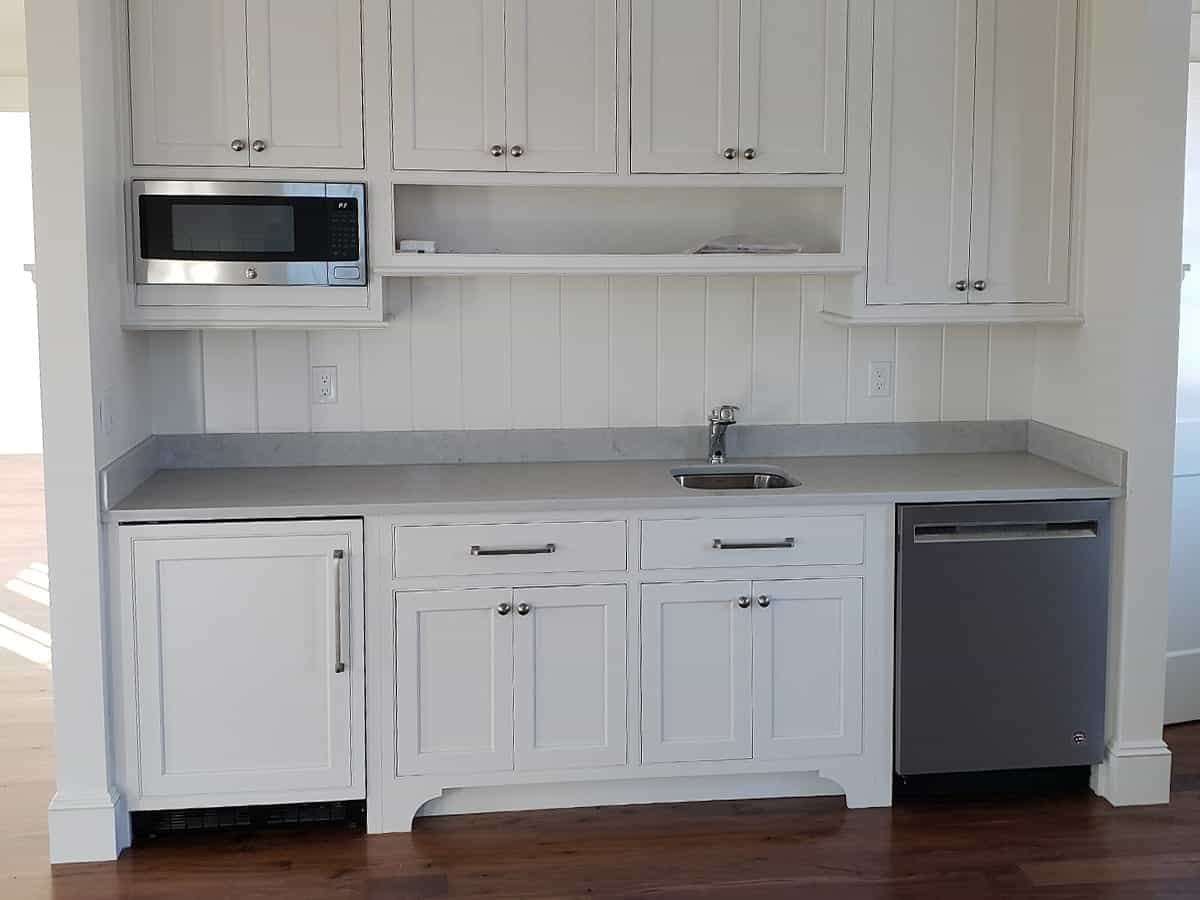 FAQs
What wood species can my kitchen be crafted in?
You have unlimited species to choose for your custom Kitchen, that's the bonus of having a kitchen custom fabricated and designed.
What is the average lead time?
Average lead time is between 4-6 weeks once drawings are approved by the homeowner
What about warranty?
There is a one-year warranty on all finishes, hardware, and craftsmanship. We offer a no charge 1 hour touch up to you cabinetry at the 1-year mark.
Where can I see examples of your work?
You can see samples of our work in Finehomebuilding magazine, Southern New England Magazine, RI monthly home edition, on our website, Instagram or by requesting a site visit to one of our completed projects.
Do you have anything in stock?
e do not stock product. All projects are custom orders.